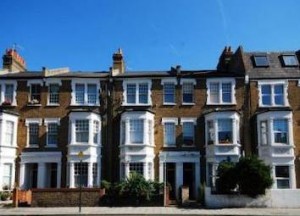 David Banks founded his painting and decorating business at Filmer Road in Fulham in 1974 and has been there ever since. The business knows the area well.
The business is proud of it's record of hundreds of satisfied customers in the area.
I started my business in Fulham in 1974.  Back then I lived in a ground floor flat in Gironde Road, just off Dawes Road. There was a basement which wasnt quite a basement in that the ceiling was very low and you had to stoop to walk in it. Thats where I set up my office. The business grew quite quickly and it was clear the 'basement' hadn't much future –not unless I wanted me and my painters to develop a permanent creak in the neck. So I found a premises at Number 20,  Filmer Road, between Dawes and Munster Road. It was a ground floor and basement and the rent was £ 10 per week. I signed a 7 year lease. The premises had been a fishmongers and we had quite a lot of cleaning to do to make it occupiable.  The stench in the basement was impressive.  But we knocked it into shape and got underway.  My company has been based there ever since. I've seen a lot of changes in Filmer Road over the last 37 years. Businesses have come and gone, and property prices have continued their relentless upward march.  When I first moved in the landlord wanted to sell the whole building. He offered it to me for £ 8,500.00 pounds!. That was a lot of money to a young man just starting in business with nothing in the bank and a new wife and son—so  I didn't buy it.  I 've kicked mnyself a few times since when I look at what the property is now worth!! Ah well, such is life.  I've been very happy in Filmer Road and have built up longstanding relationships with many of my neighbours there, businesses and private people alike. We've done the painting and decorating for hundreds of Fulham houses and businesses in the last 34 years and I have to say that if I had the choice again of where to locate my business, I would choose Fulham and Filmer Road.
Next week I plan to start writing about painting and decorating.  I plan to pass on some useful tips and tricks of the trade which may be of help to any of you thinking of tackling your own painting and decorating job.
David Banks.
Published
September 30, 2011
|
By
londonde
Richmond – one of the many areas within London that we cover
View all the areas within London where we offer our painting and decorating services.
Our services include:
Interior preparation
Painting of all surfaces.
Preparation and hanging of wallpapers
Exterior repair and preparation
Repainting of houses and buildings
Alongside of these core decorating services the company also offers associated trades work where it is connected to a decorating job. This includes: carpentry, tiling, plastering and minor electrical repairs.
Posted in
Painting and Decorating
|
Tagged

Barnes, Battersea, Bayswater, Belgravia, Central London, Chelsea, Chiswick, City, Clapham, David Bank, Decorating, Decorators, Earl's Court, Fulham, Hammersmith, Holland Park, Kensington, London, Mayfair, Mortlake, Notting Hill, Paddington, Painting, Pimlico, Putney, Richmond, South Kensington, St.James's, St.John's Wood, Victoria, Wandsworth, West End, West Kensington, Westminster, Wimbledon